Monday, March 3, 2008 2:23 PM
Tea and Tesco
Calamity struck the other day as my precious supply of teabags finally ran out. Now, one thing Japan is not short of is tea - in an emergency (and we're talking about natural disaster send-in-the-troops type emergency here) it's even available in pre-warmed cans from your local neighbourhood vending machine. However, probably due to my British genes I prefer to brew my own tea using teabags of the kind sold in packs of 960, with each individual bag packing enough punch to inject the teaine or whatever they contain directly into the bloodstream, no mucking about with blending or aroma or other poncy stuff, thankyou very much.
Unfortunately, as with many things in Japan, while teabags are widely available, the price gives one the impression they are individually hand-crafted by artisans on the southern slopes of the Himalayas. Consequently it is my mission to find a source which will help me maintain my chronic drinking habit without too-disastrous financial repercussions. So it was with some excitement I learnt that a British grocery shop called "Tesco", as part of its drive for world domination, has opened a chain of stores across Tokyo. Unfortunately none near Provisional Penguin HQ, but there is one near Meidaimae Station (明大前駅), where I was headed anyway to scout out a more permanent location for Penguin HQ, so yesterday I popped in for a sniff around and maybe to take one or two surreptitious bloggery photos.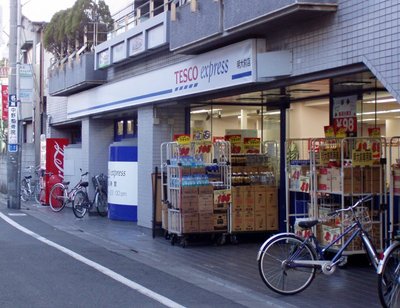 Well, it was more like any other Japanese supermarket than Tesco as I remember it. There were a couple of shelves of original Tesco products, including Red Label (own brand) tea in Japan-sized 40-packs, but at a tad under 300 yen (1.50 pounds or 2 Euros) they weren't really worth the extra expense and time of the train journey.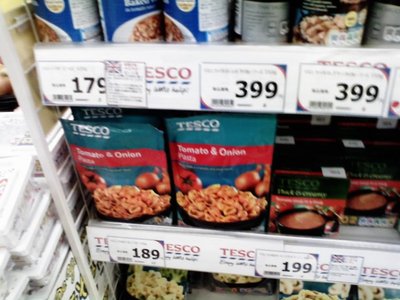 Looks like I'll be dependent on Don Quijote's bargain basement for a while (100 normal bags for about 400 yen) - unless anyone has any hot teabag tips for me, in which case feel free to post them here.