Sunday, April 19, 2009 6:28 AM
As someone whose job tangentially involves the area of data and computer security, I am very sensitive to dubious tricks of all kinds, especially involving personal information and money. We do live in an age where criminals are not afraid to contact victims and direct them via mobile telephone to transfer large sums of money into the criminal's account; or where suspicious individuals from sanitation-challenged countries promise you by email access to even larger sums of money in exchange for an up-front fee.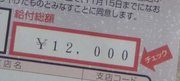 Thus, the other day I was sceptical to say the least to find an envelope addressed to myself personally saying I was entitled to claim a free 12,000 yen[1]. All I had to do is provide copies of both sides of my alien registration card and my bank details, send them off in the envelope provided and the cash would be mine, no strings attached.
Oh yeah? Think I'm going to fall for that one? The fact that it was a professionally designed communication purporting to be from my local ward office[2] only served to make me doubly suspicious.
I investigated the matter further and it appears that behind this scheme is a shady group with links to organized crime known known as the "LDP". Apparently - and this is a bizarre twist on the usual "advance fee fraud" style of scam - the money will actually be paid out. However - as they say, there is no such thing as a free lunch - the LDP will be wanting this money back at some undetermined point in time in the future of their choosing. No firm details have been established yet, but it looks like they'll be expecting recipients not only to repay the money as a sort of "tax", but no doubt also "interest" payments to cover their initial outlay, which will probably be enforced by "officials" within the so-called "bureaucracy" who are in league with the "LDP".
After much thought I have decided to see if I can't get the better of this deal. I will invest some of the money in a club. A club with a nail in it. After all, it certainly keeps the NHK man away. And if that doesn't work out, the remainder should cover the ferry fare to North Korea.
[1] In real money, at current exchange rates, around 93 Euro.
[2] A "ward" (区, ku) is an administrative district of Tokyo, though they like to call themselves "cities".