Saturday, July 4, 2009 3:35 PM
Life on the Edge
"The Penguin" and "Roppongi" are not necessarily words you hear often in the same sentence, but as the unofficial backup concert photographer for these guys (i.e. the only person usually sober enough to hold and operate a camera) needs must be and last night I found myself at Club Edge, a live house location at the less disreputable end of Roppongi's main strip towards Azabu Juban.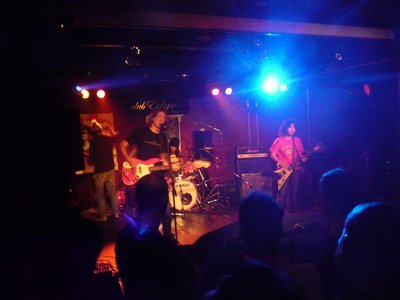 Nice venue, though as it is on the second basement floor accessible (as far as I could see) through quite a narrow entrance way, the words "fire trap" spring to mind. More seriously, the bar ran out of beer at around 10pm, but not tequila, and as it has been more than a decade since The Penguin last had any involvement with this particular liquid, and The Penguin had evidently forgotten the hard-learned lesson of that era, i.e. the advisability of avoiding that devilish concoction at all costs.
The Penguin will not be going into details but would like to emphasise that the forehead injury was sustained as the result of a vicious and unprovoked attack by one of the walls in his apartment.
More photos: