Sunday, December 23, 2007 12:18 AM
Nippon Mouse Killer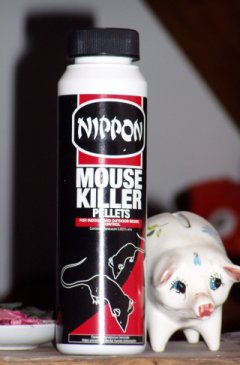 (This is the first of an occasional series of posts on stuff found outside of Japan which uses the image of Japan or the Japanese language in strange and / or mysterious ways. Sort of like Engrish in reverse.)
Right now I'm visiting my parents in the UK, and as they live deep in the inaka they are engaged in semi-permanent conflict with large sections of the flora and particularly the fauna. Mice are a particular problem, and what else would the discerning householder use to control the domestic rodent population other than "NIPPON Mouse Killer Pellets"?
A product of British company Vitax, they're just one of a range of pest control products marketed under their registered trademark NIPPON.
Quite why the Japanese name for Japan should be associated with animal and insect poison is a good question and one which does not seemed to be explained on their website. Any suggestions?