Thursday, January 1, 2009 1:01 PM
Scrambled Crossing
This is Shibuya Crossing. Even if you've never been to Tokyo you've very probably seen it on TV. Or in "Lost In Translation". By law anyone doing any kind of filming has to shoot at least one scene here or they won't be allowed to leave the country. It's very impressive, what with the masses of people and all those futuristic-looking high-tech video screens. In fact it's one of those iconic locations where it'd be fun to celebrate the countdown to New Year, sort of like New York's Times Square or London's Trafalgar Square. As you can see from the picture below, at around 11pm there were quite a lot of people gathered with the intention of having a bit of harmless fun: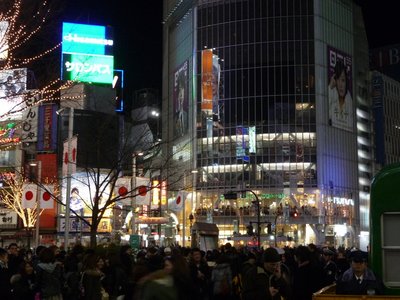 But not if Mr. Policeman is going to have anything to do with it. Oh no. Mr. Policeman is evidently having a great time repeating the announcement that there would be no countdown at this location, and that anyone planning one should please bugger off somewhere else off his beat. He'd even gone to the trouble of having those futuristic video screens shut off.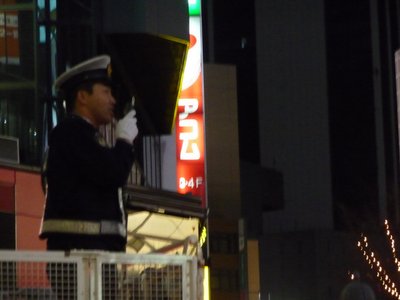 Meanwhile Mr. Policeman's friends were busy blocking off the diagonal bit of the crossing, to prevent any blatant and gratuitous acts of fun: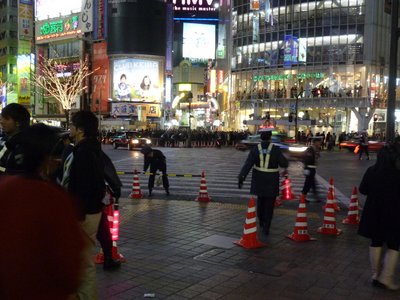 So, sensing that Mr. Policeman's friends and some rather less friendly-looking friends of his with big sticks might impose officially-sanctioned boredom, we buggered off somewhere else.
The nearest alternative "entertainment" was the traditional coin-throwing ceremony at Meiji Jingu, which is the Ground Zero of Japanese New Year celebrations. However, it didn't seem too crowded, and there was even a friendly sign advising us to watch our step: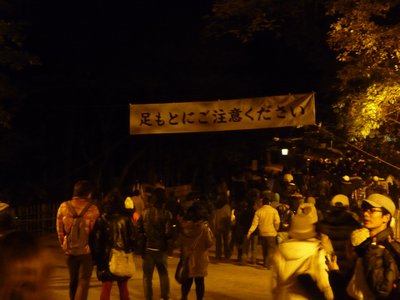 But wait! Says the mouse. Yes, it's Piipo-kun, the mascot character of Tokyo's rugged, manly police force: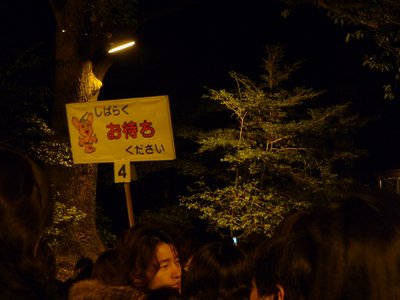 It turns out that around the corner is the mother of all queues, efficiently organised into separate blocks to prevent unseemly stampedes: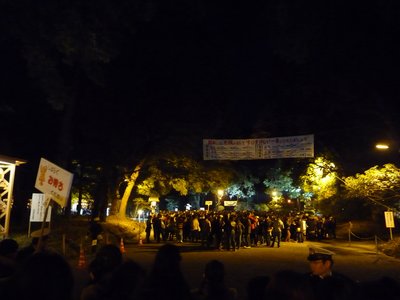 All watched over by Tokyo's finest and their cute rodent: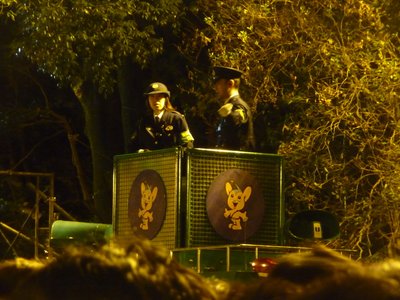 After a while, during which midnight came and went with a reasonably lively spontaneous countdown, after just an hour-and-a-half the outer gates of the shrine compound itself hove into view: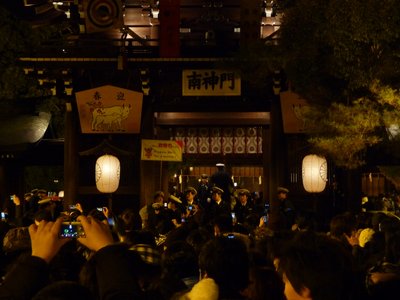 through whence there was a great inpouring of the masses: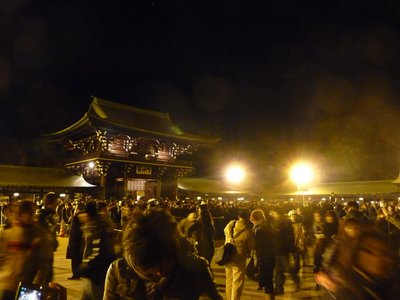 coins in hand launching them at the great receptacle trough which had been set up for the purpose in front of the main shrine building: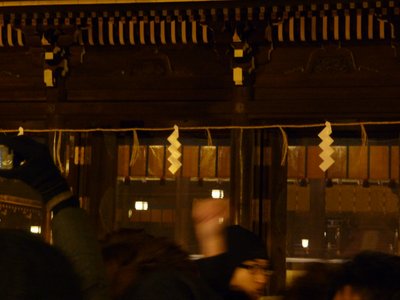 Once that's over and done with, why not stop off at the thoughtfully provided refreshment area and tuck in to some nice traditional Döner Kebab?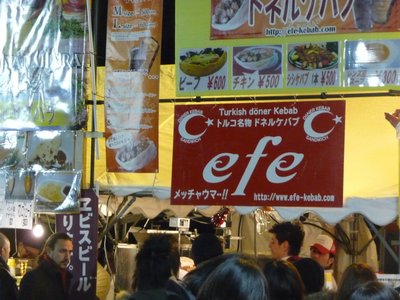 However, if epic midnight queuing is not your thing, you can celebrate the New Year by popping along to your local shrine the next morning and waiting in its own mini-line: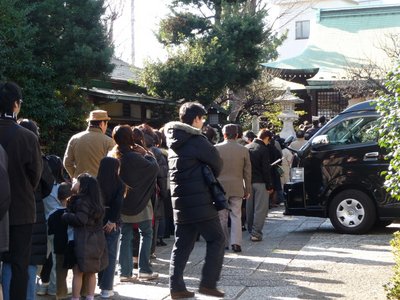 Anyway, however you saw in 2009, Happy New Year and all the best for the next 365 bovine days!