Monday, November 24, 2008 9:14 AM
Book 1st, Shinjuku
(Occasionally I might write the odd factual article which may be of actual practical interest to someone living in Tokyo or Japan. This is one of them.)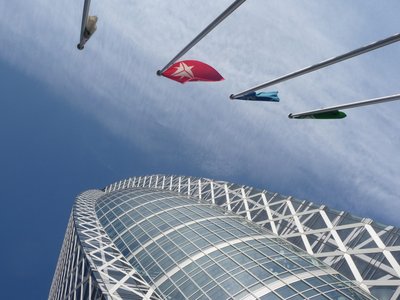 The Cocoon Tower, yesterday
Keen students of architecture, and observational types who regularly check out Shinjuku's skyline, will have noticed that the Cocoon Tower - last reported on in these pages in February - has been completed and is now incubating the next generation of Mothra, who will no doubt one day come forth and start flapping around the spotlights illuminating Tokyo Tower until someone can find a swatter big enough. I digress. The tower's full name is Mode Gakuen Cocoon Tower (モード学園コクーンタワー), and as a deeply unfashionable person (it contains some sort of design/fashion school) it has been of little immediate interest to me, until I noticed signs announcing the opening of the latest branch of "Book 1st", which is a fairly widespread chain of bookstores (and not e.g. some sort of booking agency, as the name might imply) in the Kansai area and around Tokyo.

As my book budget probably exceeds my fashion budget (and by fashion I mean "clothes bought at Uniqlo") and it seems to be quite a big bookstore, I thought I would toddle along the other day and check it out, with a special eye for the foreign section (me being a foreigner and all that).

Well, it is a big-ish bookstore, occupying the two basement stories of the tower. However - and take this from someone with an unusually keen sense of direction - it is very confusingly laid out. There is no internal connection between floors, and even between sections on the same floor you sometimes have to go "outside" and come back in again. It's as if, after completing the tower, the building owners realised they had all these odd-shaped spaces in the basement, and were desperate to come up with some way of using them.

If it's Japanese books which pique your interest, the selection is pretty good, but while there's a fair selection of foreign (= mainly US American) magazines, the foreign book section is quite small and uninspiring. It did seem to have a big selection of children's books though. The main advantage it has is that - on a Sunday at least - it is nice and quiet (as is the whole skyscraper district west of Shinjuku Station) and has that pleasant new bookshop smell.

Conclusion: if it's foreign books you're after, either of the Kinokuniya stores in Shinjuku, or even Tower Records in Shibuya, offer a better selection.
Opening Hours: daily 10am - 10pm
Telephone: (03) 5339-7611
Directions: From Shinjuku Station's western exit, take the pedestrian tunnel on the north side of Chuo-dori (it's the one with the walkway on the left). Cocoon Tower should be pretty well signposted. At some point on your right you'll see the Book 1st sign. Alternatively take the above-ground route to the easy-to-locate tower, then find a stairway which leads downwards and with some luck it should deposit you in front of the bookstore and not in the underground carpark.