Wednesday, July 12, 2006 8:14 PM
Tokyo - Beim Näherkommen durch die Straßen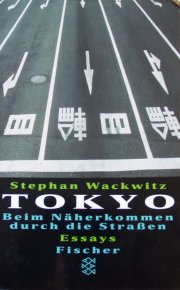 Tokyo - Beim Näherkommen durch die Straßen
Wackwitz, Stefan, Fischer, Tokyo (1996)
ISBN 3-596-13006-9
Returning to Berlin after living in Tokyo for a year, I was happy to find any books about the place I could, including this one picked up for a few DM from one of the second-hand bookstalls outside the university. Unfortunately it is not a book which furthers one's understanding of Tokyo much; it is more the reminiscences of the author, an employee of German's cultural foundation the Goethe Institute, of his life in Tokyo, written in the academically pretentious style found in the more highbrow feuilletons of the German press.
It's not entirely clear what Wackwitz was actually doing in Tokyo, as far as I can tell he spent three years or so wandering around Roppongi and Azabu (with occasional daring excursions to Shirogane or even Harajuku) waxing lyrical about his (mis)-interpretations of Japan (Wackwitz had no prior experience of the country, and only a smattering of the language) mixed in with a whole lot of creative blah (unrelated to Tokyo) in which the word "atavistic" is used a lot. And he seems to have some obsession with "barbarians". At best he regurgitates some typical Japan cliches, smothered in long words of little real meaning.
Summary: this is a good book for filling space on the bookshelf, but not for gaining useful insights into any aspect of Tokyo.