Yamanote Line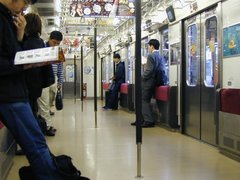 Standing-room only on the Yamanote Line
What can we say about the Yamanote Line? It's green and it goes round and round, linking most of the important bits of Tokyo. And most of the railway lines as well, making it the "via C" bit of way too many "A-to-B" journeys through Japan's capital city. This is of great annoyance to The Penguin, whose local station is on the Yamanote Line, which means he is tragically forced to leave for work at a more civilized hour (10am comes to mind) when it is not quite so crowded and it is permissible to lower the seats in the 6-door standing-room-only cars, of which every Yamanote Line train has two. (Note: the 6-door cars have since been removed from all trains on the Yamanote line as JR is currently adding platform edge doors and the 6-door cars wouldn't match up to the platform doors, or something).
The Yamanote Line is commonly described by those without any sense for geography as a "loop" or "circle" line, which is correct in as far as the trains go round and round it without any obvious terminal destination. However it's more of a long thin isoceles triangle with the pointy bit at the south end between Osaki and Shinagawa stations, and the other two pointy bits on the north side of Tokyo, in the general vicinities of Ikebukuro and Tabata respectively.
For those of you taking notes (and I bet you wear an anorak don't you) the Yamanote Line has 29 stations, which the nice new E231 trains zip round in an hour or so. Unless they are terminating at Osaki, which is the Yamanote Line's secret terminus.
Timetable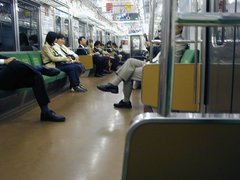 Contrary to rumours, seats
are
sometimes available
The Yamanote Line starts running between around 4:30 and 5am, and the last trains stop around 1am. Trains run every 3 minutes or so during peak periods and at 4-5 minute intervals at other times. It takes 60 minutes to complete a full circuit.
We haven't found a linkable Yamanote Line timetable in English online, but you can always use the excellent Hyperdia to search for journeys between individual stations.
This handy PDF file has a map showing the last train times from each Yamanote Line station, albeit in Japanese only.
Fascinating Yamanote Line Facts
Technically the Yamanote Line is just the stretch of track from Shinagawa to Tabata via Shinjuku. The eastern side of the loop is part of the Tohoku and Tokaido lines respectively.
The Yamanote Line has just one level crossing, near Komagome Station.
The fare for a complete circuit of the line is theoretically 260 yen. However this fare is not displayed at the ticketing machines. (It's possible to get away with paying the lowest fare, 130 yen, by going round the loop and disembarking at a station before or after the one you got on at).
Stations
Did we mention before that the Yamanote Line has 29 stations? We did? Well anyway, here's a complete list:
Osaki Station
Gotanda Station
Meguro Station
Ebisu Station
Harajuku Station
Yoyogi Station
Shin-Okubo Station
Takadanobaba Station
Mejiro Station
Ikebukuro Station
Otsuka Station
Sugamo Station
Komagome Station
Tabata Station
Nishi-Nippori Station
Nippori Station
Uguisudani Station
Ueno Station
Okachimachi Station
Akihabara Station
Kanda Station
Yurakucho Station
Shinbashi Station
Tamachi Station
Shinagawa Station