Thursday, May 5, 2005 5:35 AM
Ebi-Burger
At home I avoid fast food "restaurants" wherever possible, not just for diet or ideological reasons. In Japan however I find them useful for shorter and longer breaks while on the move: they almost always have a non-smoking area (otherwise a rareity in Japan), it's possible to stay there for hours without being disturbed (apart from the raucous cries of feral kogals at the next table), and, most importantly, there's a reasonable chance of an open WLAN network in the immediate vicinity.
Fortunately Japan has its own native competitors to the omnipresent McD, which are always good for a cup of coffee (tip: if your primary aim is to drink good coffee, go elsewhere). I avoid the food usually. With one exception: the ebi burger.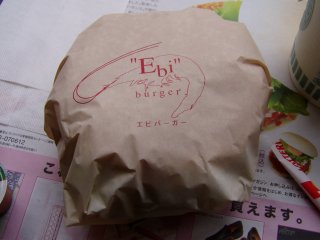 "Ebi" burger - エビバーガー
Translated: "shrimp burger". This is only available at Lotteria (ロッテリア), and I have to admit to a strange liking for this uniquely Japanese taste experience. It is made with genuine shrimps, which was quite a breakthrough at the time it was introduced, at the beginning of the 70s, as until then shrimps were more of a high-class item.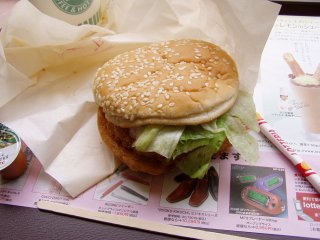 History of the Ebi Burger (in Japanese)