Friday, September 23, 2005 6:33 AM
Tokyo Bay Wedding Village
Taken by a sudden desire to see the sea and escape from the sea of buildings which is Tokyo, I decided to take a trip on the Yurikamome, a sort of rubber-tired toy train which links a large spot of reclaimed land in the middle of Tokyo Bay with the city proper. It was my first trip out there for five years or so, and much to my delight I espied a collection of Europeanesque buildings (from the Disney School of Architecture) bearing the sign "Partire Tokyo Bay Wedding Village".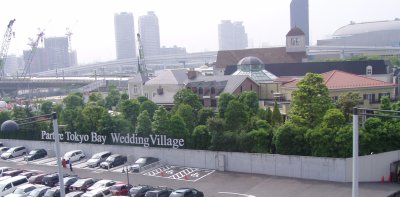 Partire Tokyo Bay Wedding Village
Intrigued, I hopped off at the next stop and hiked a surprisingly long way between the kind of large, imposing yet anonymous structures typical of developments on artificial islands, finally reaching a vantage point overlooking the, erm, village.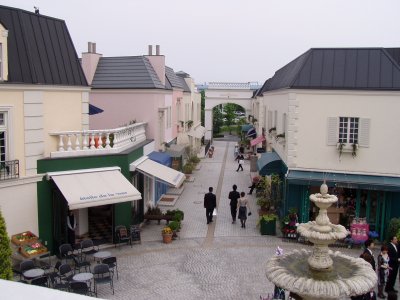 If you look carefully, you can see Mickey Mouse
Much to my delight, a real live wedding was in progress, complete with bride, groom, confetti, and genuine gaijin (in the Caucasian sense of the word) pastor.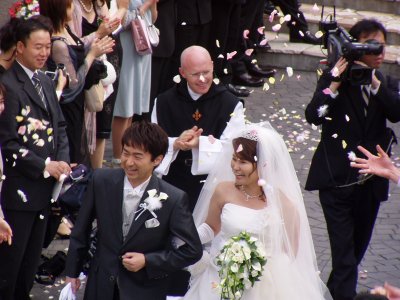 The happy couple and the happy couple's camera team
Just to give it that extra-authentic European touch, there was a clown and a guy with a barrel organ hanging around too.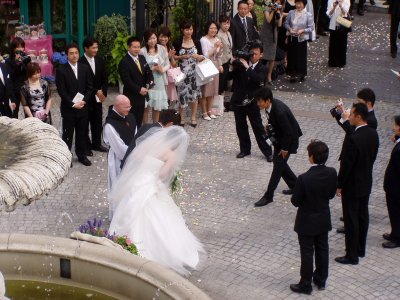 You may bow to your photographers
Couples who are thinking about tying the knot in this romantic location, just minutes away from the Toyota City Showcase Car Showroom, can find out more at the Wedding Village homepage (Japanese only, alas). More pictures of this fantastic location, including the inside of the chapel, are available on this blog in French.